Successful outcome or failure of a successful tennis career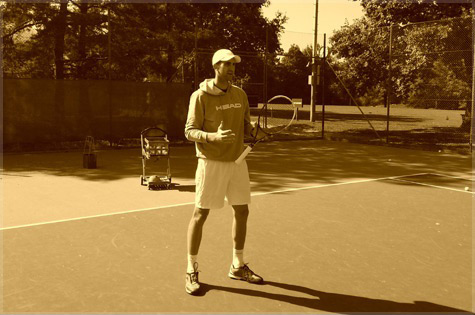 Questions to Bojan:

1) Which was the way Novak and you were going together in your boyhood in terms of tennis and school?

The first time I met Novak was at the tournament in Belgrade, at the beginning of 2000, when we met in the semi-finals under 12 years. He won 6:4 6:3. During that year, I achieved outstanding results and increased to 90th place in Europe. He had lower ranking that year. We were very ambitious, we pushed each other, we gave all for tennis. We trained for 4 hours a day, and plus he worked on fitness. I remember him then saying that he will be the best in the world. He had professional approach to the tennis. He lived for it and nothing else wasn\\\'t important to him. From 2001, we continued building our careers separately. We went to the same school, Sports gymnasium. Due to tennis obligations, we stopped seeing each other at the school, but we maintained contact in private life.

2) How well was your friendship on and off the court?

Ever since we met and started training together we have been bonding more and more. We trusted each other. We did and planned everything together. We went to the cinema often. We talked a lot about our lives, our families, and even at that time we realized that we must give our best because our parents invested all the money in our careers and sacrificed for us.

3) What kind of common success did you have together with Novak in your boyhood?

The first tournament after the winter season 2000/2001, was the Winter National Championships of Serbia under 14 and we played the final. He beat me 6:1 6:4. I remember it was very awkward for me to play against him, because he was my best friend, and I could not make myself to be motivated to win. After that we had a tour around Italy, competitions under 14 (Messina, Genova, Arezzo). We played a lot of finals and semi-finals. After these victories, we went to Perugia as the guests of coach Alberto Castellani. We spent 3 days there. Then we passed qualifications for the European Championship and waited for the European Championship in Spain. We beat Russia, Italy and then Slovenia in the finals. I remember that I won the deciding match for the national team. It was the first gold medal at the European Championships in tennis history of our country. After winning a gold medal at the European Championships, we went back to Belgrade to prepare for the individual European Championship in San Remo. At this tournament I lost in the second round and automatically played consoling tournament. I was winning matches at the consolation tournament, Novak in the main draw, and we were winning together in the doubles. We recorded 13 wins in a row in singles and doubles. En-route to the gold medal, I defeated Marin Cilic, Ernests Gulbis and Robin Haase, who were among the best 40 players of the planet. We returned home with a gold medal so it was a golden age for Serbian tennis. After that tennis became more and more popular. The next challenge was the European Championship under 14 in the Czech Republic. We piled victories. We beat all countries on our way to the finals. In the final, we played against Germany, but unfortunately I could not play due to pain in my shoulder. The player who replaced me lost the first game. After that Novak also lost and it was Novak\\\'s first defeat in the team. We lost against Germany, so we won second place in the World Cup. In former Yugoslavia, they called us golden team.

4) How did your career develop after the age of 16 and which were your biggest successes?

At the age of 16, I trained in TC Partizan with Bozidar Matic as my coach. I was the youngest senior national champion, national champion under 16 and I also played for the national team. At the time my game lacked many things. There wasn't a serious plan and the right periodization of the development of my career, which I realized later while improving as a coach. Many things were not in my training program such as fitness, tactics, situational exercises, etc. There wasn't a tournament plan and I did not have the right team, which I needed for the top-level results. Tennis has progressed rapidly, and I couldn't keep up with it. When I was 17, I stopped working with Bozidar Matic. We didn\\\'t have money to pay coach and therefore I did not have adequate conditions for training. Despite this, I was a state champion of Serbia under 18. At the end of the year I went to a camp in America to take part at the prestigious tournament, \\\"Eddie Herr\\\". I passed three rounds of qualifications, and the first round of the main draw, where I beat no.40 junior in the world. In the second round I lost to the best player in the world under 18, Donald Young, 6:4 6:4. At that time I was ranked no.850 in the world. I did not have resources to travel to tournaments or to improve my game. After that tournament, I returned to Serbia where I was sparring partner to different players. In January 2004, I had an unfortunate kick in the knee, and since then I have had problems with injuries and operations. The greatest success under 16, was winning the gold medal at the European Championships and the silver medal at the World Championships (under 14).

5) Why did you have to retire from professional tennis? Was it your health or other things like money, surroundings, talent?

As I said in the previous answer, injuries were the main reason for my withdrawal. I had three surgeries from 2004 to 2008, but when I finally recovered we did not have the money for professional tennis. I realized that I lost four crucial years in my career that I was not able to catch up. I\\\'ve always believed in myself, and that I would be able to become a top player, but for such good results all pieces must get together, and I was missing many of those pieces.

6) What were you going through after you had to retire from professional tennis and how did you get the idea of becoming an ambitious tennis coach?

Since 2004, when I first retired from daily trainings, there was always hope that, after the next operations, I would be able to get back to the realization of my dream, but I was not hoping that that dream would become more and more distant. It was a very difficult time for me. Just when I started recovering from one operation, I had to deal with the new one. Everyone was waiting for me to get back on the court (club, team, friends). Since childhood, tennis has been my passion, my desire, habit and obligation. It was very hard to accept the fact that it would no longer be a part of my life. When I realized that I would not be a pro, I decided to go to a college. I got a lot of good deals but because of the pain I just could not work out. I was totally lost and had no idea what my job would be in future. There was one track where I\\\'ve tested hundreds of times if I could run without pain, but each time I returned with my head down. I did my best to try to get back, but I guess it was not meant to be, and I just didn\\\'t want to deceive myself anymore. I came to the idea of becoming a tennis coach when I realized that the only thing I wanted to do in my life was tennis.

7) What does your life as a tennis coach look like today? What fascinates you about being a professional tennis coach?

I thought I was going do this job only after I turn 35, but come-by-chance, it happened at 21. I didn\\\'t know that this job was so interesting and that I would be just as happy as a coach. One thought has been guiding me through life, and that is to be successful and maximize my potential and abilities in whatever I do. I love spending all day on the tennis court, helping juniors to achieve their goals, and the thing I am always in a good shape because of tennis. I still think about tennis all day and keep improving myself. There is a big difference between a player and a coach. As a tennis player, I just had to go out there and do my best, but as a coach I have to think about many factors, so the players could perform their best at the moment. The main driving force and motivation for me is the success of my players, because I live their success as mine. The more I improve as a coach, the greater is the impact on the development and improvement of players. I am aware that I have a great responsibility towards their careers because they have only one chance to become professional tennis players. That responsibility motivates me and gives me the will to maximize their potential.


8) How happy and satisfied are you with your life today after you know you will never be a famous professional tennis player? Do you get a bit jealous of Novak Djokovic sometimes?

When I started my coaching career I wasn't happy and satisfied because my dream of being a professional player was dashed. When I accepted the fact that this would be my profession and my career, I set a goal to be among the most successful people at it. Today I am very happy and content, because what I do really fulfils me. I found myself in this relatively quickly, and I have already achieved some of my goals in private and business life. My job gives me a lot of pleasure because I love what I do and it is interesting. I go through many things the same way when I was a player, because I travel a lot, go to tournaments, spend all day on the tennis court and I love what I do. I\\\'ve never been jealous of Novak Djokovic because I always thought, while we were growing up, how great it would be if one of us came to the top and realized our dreams. When he achieved that, I was so happy for him because I knew how much he sacrificed in order to get there. We are still good friends and I look forward to each of his victories. The only thing I've sometimes been sad is because of my failure, never because of his success. I\\\'m especially glad that he is the best player in the world because he enabled me to see what my life as a professional player would be. His success means a lot for my work because I have a chance to follow him at tournaments, to talk to him and influential people from the tennis world. Everything I find out and see from him and his team means a lot for my further improvement.

9) Tell me somewhat about Novak Djokovic. What is he like in private, and as a friend? Why is he so successful? What is the main difference between him and many other talented professional players?

Novak has been one of my best friends for many years, he's a great person. When we were kids he once said that fame would never change him, and it hasn't. He remained down to earth, humble and devoted to his family. People love him so much, not only because of his success, but also because of his dedication, humility and love for his country and family. Love is the main driving force in his life and it gives him extra energy. We\\\'ve been through a lot of things together in life and we can always count on each other. He is a great support in my life and we are looking forward to each others successes. He has had a defined goal from an early age - to be the best player in the world. His desire was so strong that he was giving up all little pleasures that his peers had time for. He was constantly striving to improve in every field, and every training was a progress towards the goal. I think the main difference between him and other players in his mental strength. He became so strong and steady en-route to that goal.
TOP OF PAGE
A wonderful serenity has taken possession of my entire soul, like these sweet mornings of spring which I enjoy with my whole heart. I am alone, and feel the charm of existence in this spot, which was created for the bliss of souls like mine.
I am so happy, my dear friend, so absorbed in the exquisite sense of mere tranquil existence, that I neglect my talents. I should be incapable of drawing a single stroke at the present moment; and yet I feel that I never was a greater artist than now.
When, while the lovely valley teems with vapour around me, and the meridian sun strikes the upper surface of the impenetrable foliage of my trees, and but a few stray gleams steal into the inner sanctuary, I throw myself down among the tall grass by the trickling stream; and, as I lie close to the earth, a thousand unknown plants are noticed by me: when I hear the buzz of the little world among the stalks, and grow familiar with the countless indescribable forms of the insects and flies, then I feel the presence of the Almighty, who formed us in his own image.
Duis dictum tristique lacus, id placerat dolor lobortis sed. In nulla lorem, accumsan sed mollis eu, dapibus non sapien. Curabitur eu adipiscing ipsum. Mauris ut dui turpis, vel iaculis est. Morbi molestie fermentum sem quis ultricies. Mauris ac lacinia sapien. Fusce ut enim libero, vitae venenatis arcu. Cras viverra, libero a fringilla gravida, dolor enim cursus turpis, id sodales sem justo sit amet lectus. Fusce ut arcu eu metus lacinia commodo. Proin cursus ornare turpis, et faucibus ipsum egestas ut. Maecenas aliquam suscipit ante non consectetur. Etiam quis metus a dolor vehicula scelerisque.
Nam elementum consequat bibendum. Suspendisse id semper odio. Sed nec leo vel ligula cursus aliquet a nec nulla. Sed eu nulla quam. Etiam quis est ut sapien volutpat vulputate. Cras in purus quis sapien aliquam viverra et volutpat ligula. Vestibulum condimentum ultricies pharetra. Etiam dapibus cursus ligula quis iaculis. Mauris pellentesque dui quis mi fermentum elementum sodales libero consequat. Duis eu elit et dui varius bibendum. Sed interdum nisl in ante sollicitudin id facilisis tortor ullamcorper. Etiam scelerisque leo vel elit venenatis nec condimentum ipsum molestie. In hac habitasse platea dictumst. Sed quis nulla et nibh aliquam cursus vitae quis enim. Maecenas eget risus turpis.